LiveLike and Twilio Segment Partner to Power Personalized Customer Experiences
In today's fast-paced digital landscape, businesses need to stay ahead of the game to succeed. And that means leveraging the power of customer data.
Enter the superhero of modern marketing, customer data platforms (CDPs). 
CDPs help businesses collect and unify first-party customer data from multiple sources or platforms to build a complete and comprehensive view of each user. This first-party data is then used by product, engineering, analytics, and marketing teams and beyond to leverage its vast potential. With a comprehensive and unified view of each user, product teams can optimize user experiences based on data-driven feedback, engineering teams can enhance platform performance and capabilities, analytics teams can uncover actionable user trends and patterns, and marketing teams can make informed decisions about their platform experience and personalize their campaigns. 
With easy-to-use, low to no-code integration options, CDPs also allow clients to save valuable time, money, and resources that would have otherwise been spent on complex integration processes, allowing them to prioritize other areas of business growth.
With this partnership, Twilio Segment can streamline the process of collecting customer data from digital platforms like websites and apps and deliver it directly to LiveLike without requiring any direct integration between your applications and LiveLike via our SDK or APIs. This exchange of data empowers LiveLike clients to create automated rewards systems that are triggered by specific user actions from their applications, resulting in a hyper-customized rewards system that saves valuable time and resources.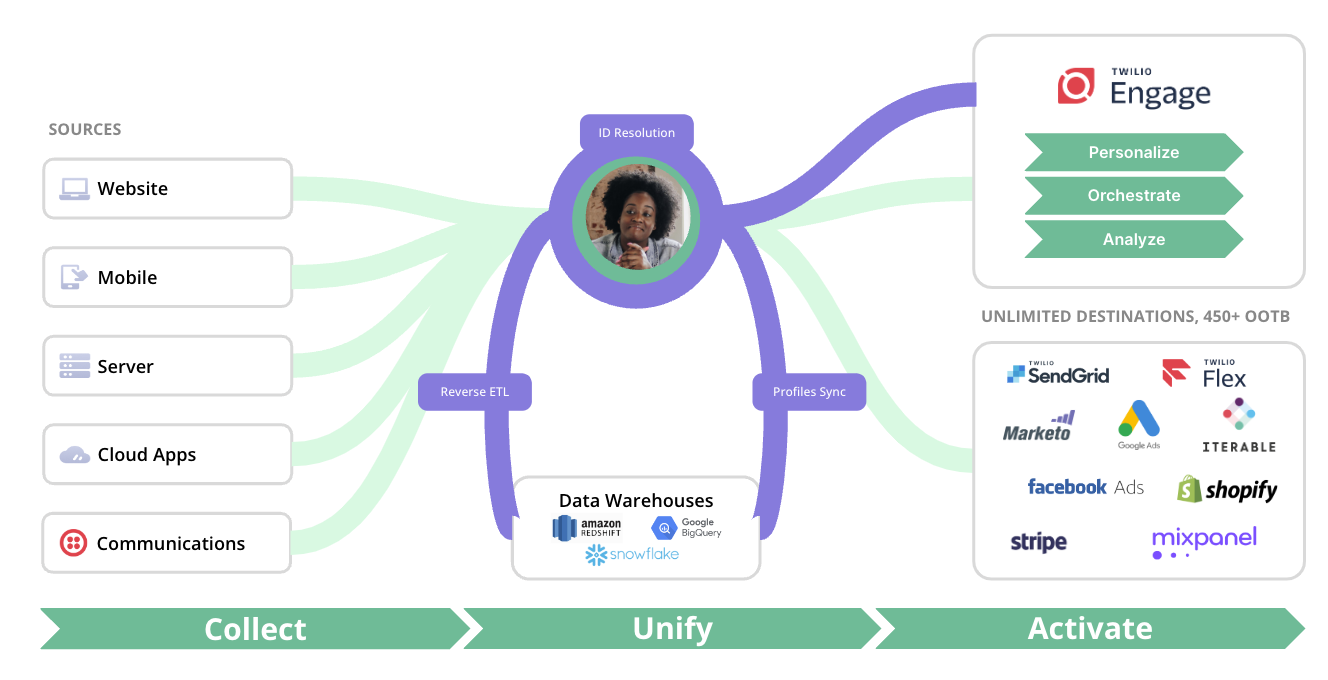 How It Works
Twilio Segment's ecosystem consists of two main components: sources and destinations. Sources are the digital platforms that send data to Twilio Segment, while destinations are the platforms that Twilio Segment sends data to.
What's unique about LiveLike is that it can act as both a source and a destination. As a source, LiveLike can send data to Twilio Segment collected via polls, quizzes, badges earned, etc., allowing clients to gain valuable insights into user behavior. As a destination, LiveLike can receive data from Twilio Segment, enabling clients to reward users for their actions on proprietary platforms and ultimately drive desired user behaviors.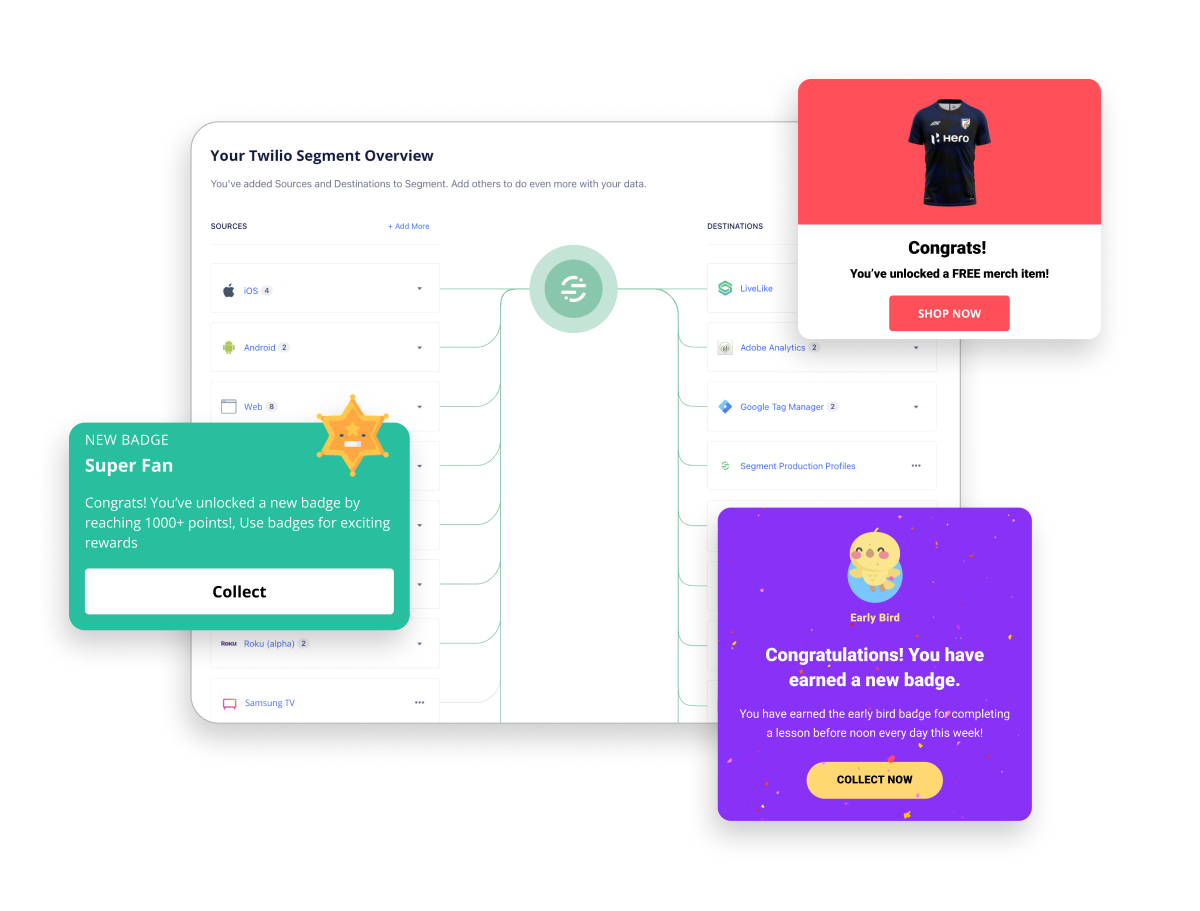 LiveLike as a Destination
STEP 1: Data is collected by proprietary platforms (websites/apps) and sent to Twilio Segment
STEP 2: Data collected by Twilio Segment is forwarded to LiveLike in real-time
STEP 3: LiveLike uses Twilio Segment data to reward users for actions taken on your platform
LiveLike as a Source
STEP 1: LiveLike collects zero-party and first-party customer data through interactive, community and loyalty-building tools
STEP 2: Data collected via LiveLike tools are sent to Twilio Segment in real-time
STEP 3: Twilio Segment customers can use LiveLike data to drive personalization through push notifications and email marketing campaigns, as well as data enrichment for further segmenting and personalization
With LiveLike and Twilio Segment, customers can easily define and track events that enable and reward actions in a click-through manner from the Twilio Segment dashboard. This enables LiveLike to create rewards that are mapped to those actions coming through Twilio Segment.
How LiveLike and Twilio Segment Will Benefit Your Platform
This powerful integration allows for the seamless collection and activation of customer data, enabling the creation of hyper-personalized rewards systems triggered by specific user actions, all while saving clients valuable time and resources.
Customized Loyalty Programs: Leveraging Data to Personalize Rewards Systems and Increase Fan Engagement
Data-driven loyalty programs use customer data to create personalized experiences that increase fan engagement, encourage repeat business and boost brand loyalty. By analyzing customer behavior and preferences, businesses can offer custom rewards, promotions, and loyalty messaging in response to specific events happening within their source application. This can help increase user engagement and retention by providing a more personalized and gamified user experience.
Seamless Automation: Save Time & Resources With Automated Reward Delivery
By integrating Twilio Segment and LiveLike, customers can automate the process of delivering rewards to users based on specific events or triggers within their application. This can save time and resources by eliminating the need for manual intervention.
Enhanced Data Analysis: Gain Deeper Insights into User Behaviours
Twilio Segment provides detailed insights and analytics about user behavior and interactions with the source application. By integrating with LiveLike, customers can gain further insights into how users engage with reward systems and gamification features, allowing for more informed decision-making and optimization of the user experience.

Overall, the integration of Twilio Segment with LiveLike empowers teams to leverage the most relevant and valuable data in their digital experiences, maximizing fan engagement, retention rates, and monetization opportunities. By unifying user data from multiple sources, LiveLike and Twilio Segment can deliver 360° customer views that enable brands to create personalized polls, quizzes, alerts, promotions, and data-driven loyalty programs.
LiveLike's partnership with YES Network is a great example of how LiveLike and Twilio Segment can power these effective loyalty rewards programs. So far, YES Network has used features like progress charts, quests, and other rewards features to create more personalized and engaging loyalty systems, leveraging the robust co-offering of Twilio Segment's CDP capabilities with LiveLike's engagement tools.
"We're beyond excited to team up with Twilio Segment and take customer engagement to the next level," said Miheer Walavalkar, LiveLike co-founder and CEO. "Our cutting-edge suite of engagement tools, paired with Twilio Segment's powerful customer data platform, will allow brands to deliver hyper-personalized experiences that truly resonate with their audiences."
About LiveLike 
LiveLike is not just another digital engagement platform; it is a powerful tool for transforming passive digital users into active and engaged fans, by providing them with hyper-customized and unforgettable platform experiences. With interactive widgets such as polls, quizzes, cheer meters, live chats, and loyalty rewards systems that can be tailored to meet a brand's unique digital product goals, LiveLike creates an environment where audiences are eager to participate, engage, and build lasting loyalty and fandom.
About Twilio Segment 
Twilio Segment is a leading CDP that helps businesses to collect, unify, and connect their customer data across different channels and touch points. It provides a single point of data collection that can integrate with hundreds of other platforms and tools, enabling businesses to understand their customers better and personalize their experiences. Twilio Segment's platform also offers analytics and insights that help businesses make data-driven decisions and optimize their customer engagement strategies.
To learn more about how to get started with LiveLike and Twilio Segment, schedule a custom demo here.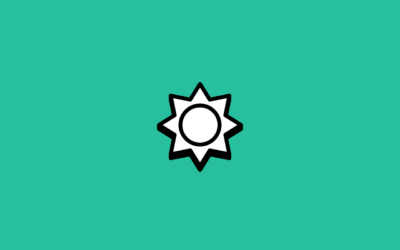 As the days grow shorter and the leaves begin to change, it's time to look back on the exciting updates and announcements LiveLike brought to the world of sports and entertainment over the summer. We've had a remarkable season filled with innovation and progress, and...