With Custom Mini-Games, we've created an exciting off-the-shelf experience seamlessly integrated into your platform. These transformative encounters go beyond standard interactive widgets, evolving familiar elements into captivating adventures like Match Predictors and 10Q Trivia challenges. From pick-your-team sagas to bracket challenges, our games redefine interactive content, turning everything into an engaging playground of possibilities. Welcome to the future of fan activations—let's dive in!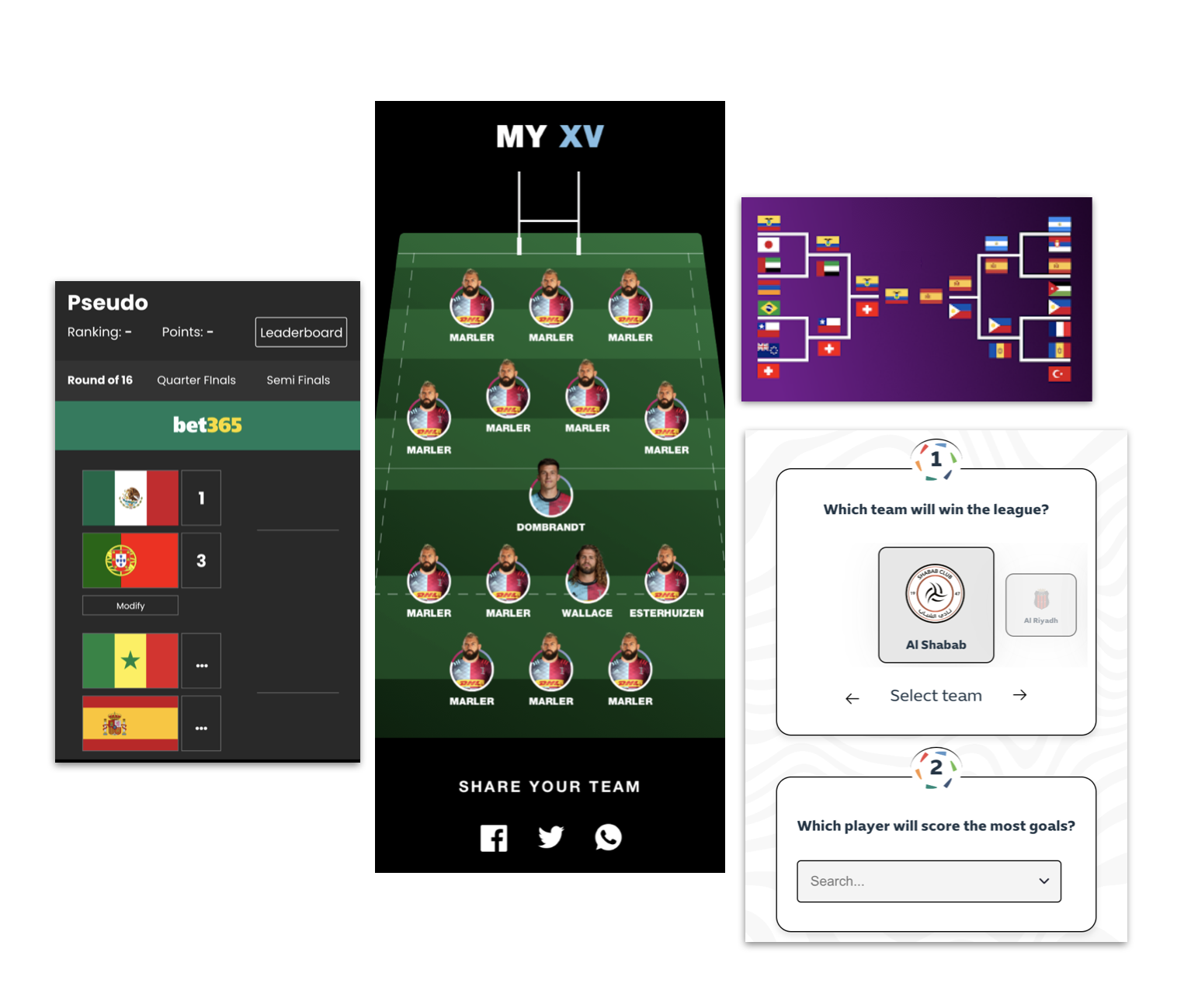 What Are Custom Mini-Games?
Mini-games are bite-sized adventures on a platform, offering users fun, quick opportunities to play and connect amidst their standard user journey. These little diversions can vary widely in terms of gameplay and objectives, ranging from single pop-up puzzles to dedicated zones of different games and challenges. Whether it's making quick picks to predict an upcoming team lineup, or a competitive bracket challenge to go up against fellow fans, mini-games add an extra layer of entertainment to your platform, ensuring that there's always something for every kind of user within the broader landscape.
With our suite of custom mini-games like Prediction Centers, Bracket Challenges and Pick Your Team, you can offer your fans fun, diverse avenues to actively participate in the narratives of their favorite sports or events.
Prediction Center:

A dynamic space where fans can predict game outcomes, from final scores to individual player performances.

Bracket Challenge:

An adrenaline-pumping experience where fans predict the entire season bracket for a chance to win exciting prizes.

Pick Your Team: A feature that enables your users to choose their ideal team or predict the lineup of an upcoming game.
Why We Introduced Custom Mini-Games
The decision to introduce Custom Mini-Games wasn't just a response to client needs; it was a strategic move to enhance our offerings and provide more engaging possibilities. Our goal is to offer off-the-shelf experiences with minimal development effort, expanding beyond traditional widgets.
These mini-games serve as a dynamic solution, fostering quick and interactive experiences that effortlessly capture user attention. They act as a hook, creating moments of play and interactivity within the user journey. Beyond mere entertainment, they also build a sense of community through friendly competition and collaborative gameplay, strengthening the user base.
In essence, the introduction of LiveLike custom mini-games aligns with our commitment to user-friendly solutions, allowing brands to effortlessly integrate engaging experiences into their platforms, going beyond the limitations of traditional widgets.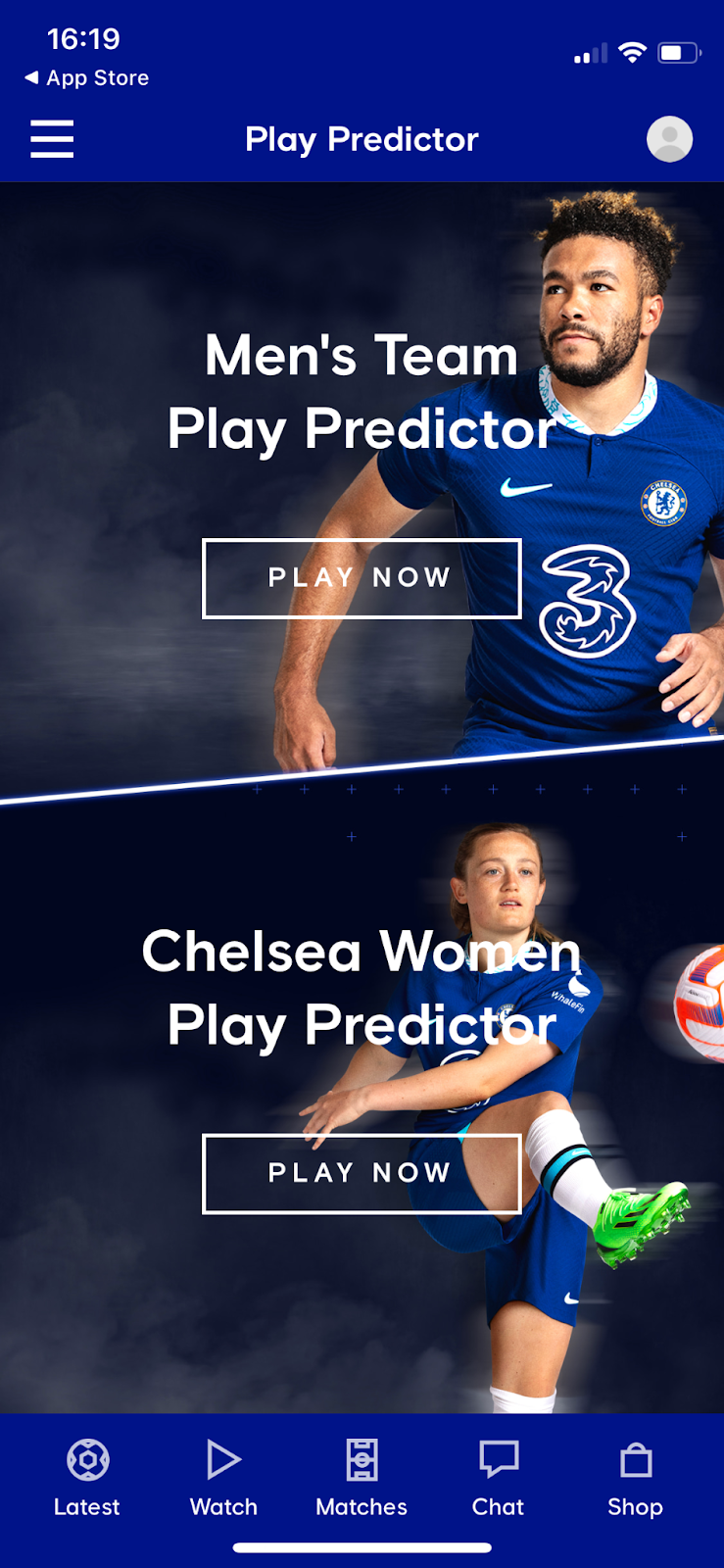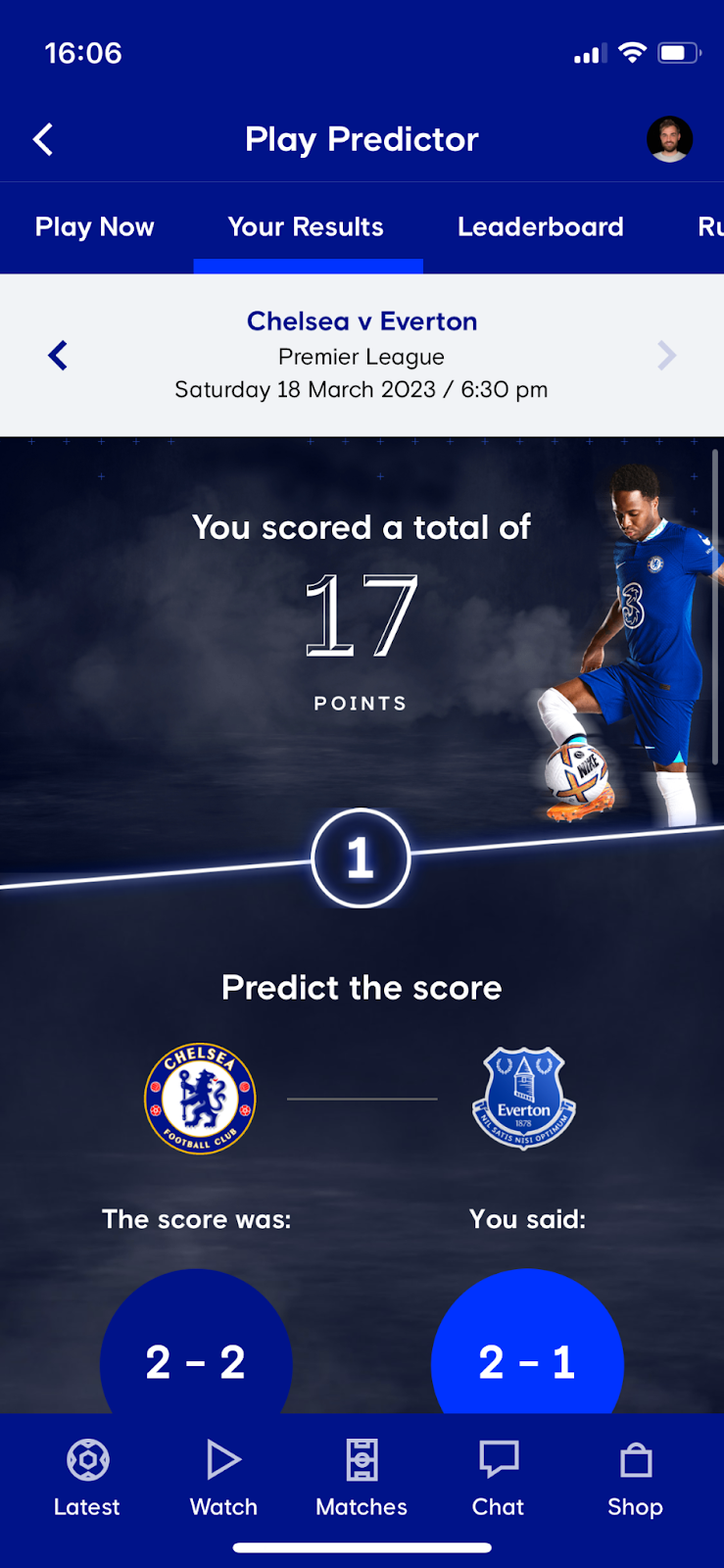 Benefits of LiveLike Mini-Games
Why should you consider integrating custom mini-games into your digital platform?
Drive User Engagement & Repeat Usage:

Keep your audience hooked with interactive and rewarding experiences, offering a level of interactivity that goes beyond passive content consumption. By allowing users to actively participate in the action, predict outcomes, and compete for rewards, these mini-games ensure continuous, repeat engagement, making the digital experience more dynamic and captivating.



Build Brand Affinity: Create memorable moments that resonate with your users, strengthening their connection to your content and forging long-lasting connections with your brand. Whether predicting match outcomes or selecting dream teams, these fun, exciting, competitive moments become associated with your brand, fostering genuine affinity and loyalty among users.
Drive Subscription & 1st-Party Data Acquisition:

LiveLike's Bracket Challenge isn't just about the game—it's a strategic tool for data acquisition. By integrating registration processes seamlessly into engaging challenges, brands can collect valuable first-party data directly from users. This data serves as a foundation for personalized interactions, content tailoring, and building a stronger, ongoing relationship between the brand and its audience.

Flexible & Customizable:

The adaptability of our custom mini-games is also one of its major benefits. Tailor each mini-game to your specific needs, seamlessly embedding them directly within your platform or allowing them to thrive as a standalone experience in a dedicated environment. Each mini-game can be customized to reflect your platform experience, whether it's themed to cater to a specific match, industry, or customer persona.

Monetization Opportunities: Mini-games aren't just about engagement; they can also serve as a monetization strategy. By offering certain premium or exclusive mini-games, brands can attract users willing to pay for an enhanced experience, contributing to the platform's revenue streams.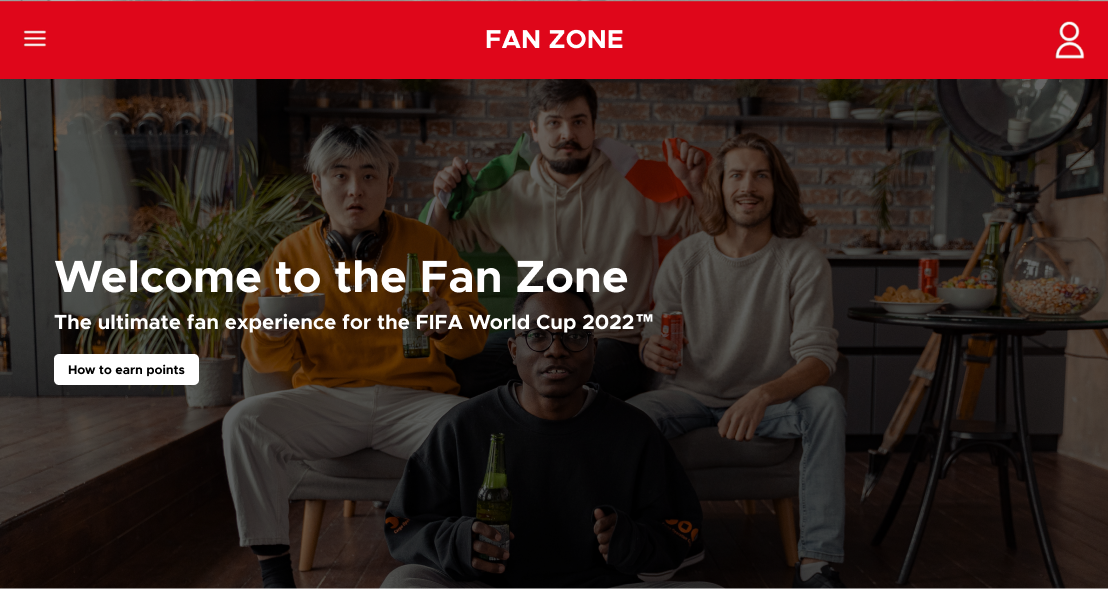 FIFA World Cup Fan Zone Powered by One of the Biggest Brands in the World
In the summer of 2022, LiveLike teamed up with one of the world's biggest brands to power a new fan engagement platform around the FIFA World Cup. As part of the activation, we launched an audience platform experience called the 'Fan Zone', a dedicated user hub that combined LiveLike mini-games and loyalty rewards tools to engage fans around the world.
Specifically, the Fan Zone featured LiveLike's Prediction Center, allowing fans to make multiple predictions for every match, fostering friendly competition with their peers while also gauging their standing on a global scale. Users simply selected the match of their choice, answered five consecutive questions, validated their predictions, and earned points for each accurate forecast. 
Adding to the excitement, users had the opportunity to earn three coveted loyalty badges, each associated with specific actions within the mini-game: Make a Prediction, Share a Prediction, and Perfect Prediction. In total, the Fan Zone recorded an impressive 480k interactions, showcasing the widespread enthusiasm and engagement fostered by the dynamic mini-game experience.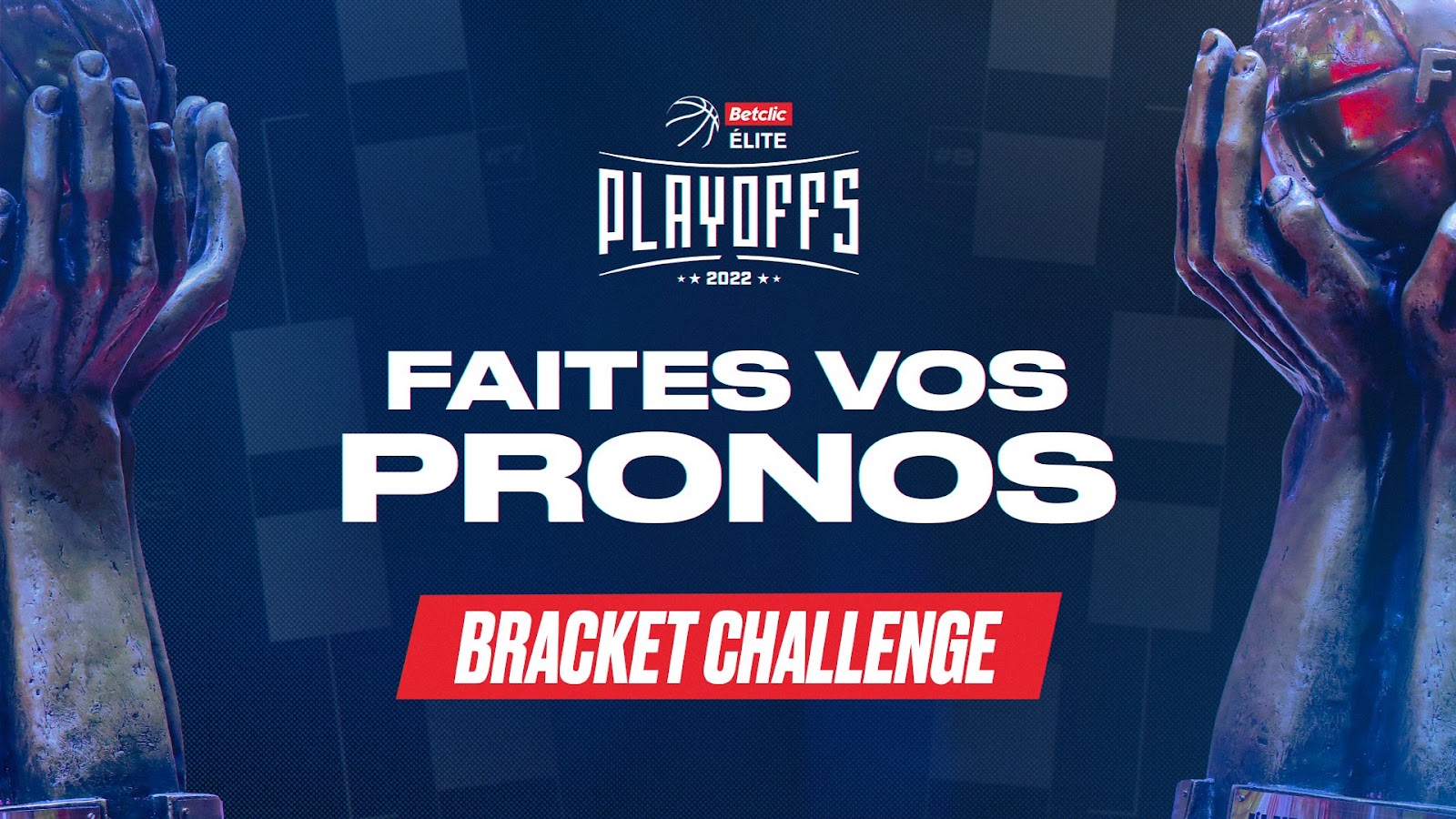 LNB - Bracket Challenge: Elevating Playoff Excitement
In 2022, the French Basketball League (LNB) enhanced their playoff experience by collaborating with LiveLike to introduce a custom bracket challenge mini-game on their platform. Notably, mini-games weren't a standard feature on our side at the time; we specifically developed this experience for LNB, marking a pivotal moment that emphasized the growing demand for off-the-shelf, easily integrated custom mini-games.
The LNB leveraged our tailored mini-game to introduce a playoff Bracket Challenge, engaging users in predicting playoff outcomes using a LiveLike-powered prediction widget. Users were required to undergo a seamless registration process, providing the LNB with valuable first-party data and laying the foundation for future tailored user engagement strategies. Once registered, users enjoyed the thrill of predicting playoff game outcomes using our Prediction widget mini-game to forecast the entire bracket in one go. 
The mini-game experience created was user-friendly, easy to navigate, and offered an exciting way for fans to get involved in the sport they love. With an impressive 92% interaction rate, the LNB successfully amplified fan participation for the playoff season thanks to LiveLike's Prediction widget and Bracket Challenge.
Overall, LiveLike's Custom Mini-Games offering represents a natural evolution of our product, opening doors to new possibilities in digital engagement. From seamlessly integrating into platforms to becoming strategic tools for brands, these mini-games embody simplicity without compromising on excitement. As the digital landscape evolves, LiveLike's mini-game feature set stands as a testament to our commitment to innovative solutions that elevate user experiences. It's not just about keeping up; it's about staying ahead and setting the pace for the future of interactive content. 
Embrace the evolution—step into a world of limitless engagement with LiveLike's Custom Mini-Games!
Get in touch to learn more about custom mini-games or to find out how LiveLike can enhance your platform experience.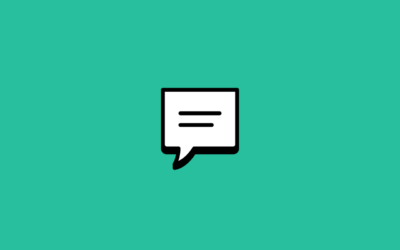 In 2023, making connections can be a challenge. That's why fostering meaningful interactions and building a vibrant community around your platform content is crucial. Your users want to feel like they're a part of something bigger, and that your platform is a space...