Pioneering Audience Engagement and Gamification Company Continues Rapid Growth
TORONTO and NEW YORK – November 16, 2021 – LiveLike, an audience engagement platform that incorporates community, interactivity, and gamification to the online user experience, has announced the opening of an office in Toronto. The new occupancy in Canada strategically grows LiveLike's presence in the country as it expands its relationship with media and other businesses in the region. Throughout this process, LiveLike worked closely with Toronto Global, a team of experienced advisors assisting international businesses to expand into the Toronto Region.
LiveLike's cutting-edge approach enables its partners to activate and empower their audiences via customized, interactive features. It does this using a suite of tools ranging from virtual watch parties, private and influencer-driven chats, and prediction games, to fan leaderboards, live polls, quizzes and more.
In only the past two years, LiveLike has seen their audience engagement platform utilized by the likes of the NFL, the NBA, the Golden State Warriors, NASCAR, Canal+, WarnerMedia, FOX, and more. Now, LiveLike turns its attention to organizations in Canada, including those in sports and media, as well as in fintech, edtech, and publishing, or any platform looking to directly engage with their audiences and retain them as fans.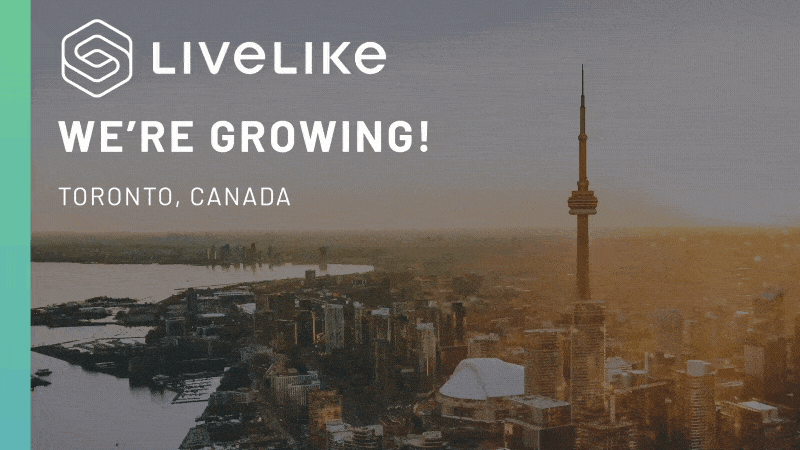 Commented LiveLike Co-Founder and CEO, Miheer Walakavar, "Toronto is an excellent location for our second office in North America and first in Canada. We have already begun to tap into the exceptional talent in the city, including recent additions on our marketing team with more to come, and we are thrilled to be expanding our business through partnerships with companies based in this vibrant city."
"The Toronto Region is drawing the attention of the world for its emerging digital media and game development sectors, its diverse and welcoming community and dynamic entertainment scene," said Toronto Mayor John Tory.
"I'm thrilled that LiveLike will call Toronto home, create jobs for our talented residents and contribute to our reputation as a global centre for innovation, creativity and economic growth. Welcome to the Toronto Region!"
Founded in 2015, LiveLike is headquartered in New York, and in addition to Canada, has offices in India and Europe, with additional staff around the world. For more information on LiveLike, please visit livelike.com, and for career opportunities in Canada, visit livelike.com/careers
About LiveLike
LiveLike is a technology company dedicated to empowering digital experiences. It does this by providing its partners with customizable tools that transform passive audiences into engaged communities. LiveLike's gamification engine helps top sports organizations and media companies to enhance the fan experience, retain audiences, and unlock new monetization opportunities. Its interactive and social features have connected fans to the biggest live events around the world, from the Super Bowl, FIFA World Cup and NCAA March Madness to concerts, festivals and the U.S. presidential debates. Additionally, LiveLike is actively expanding into new industries, bringing its technology to ed-tech, fintech, e-commerce and publishing, with more to come.
Headquartered in New York, LiveLike also has offices in India and Europe, with staff located worldwide. Over the past two years alone, LiveLike partners have ranged from companies including Canal+, Deltatre, FloSports, FOX, nugs.net, Sky Group, Sportradar and WarnerMedia, to organizations like LaLiga, NASCAR, the Golden State Warriors, the NBA, and the WNBA. Company investors include Greycroft, USM Holdings, Evolution Media Capital, Lepe, BDMI, Elysian Park, Courtside VC, and late NBA Commissioner David Stern. For more information about LiveLike technology, partnerships and more, visit livelike.com
Media Contacts:

The Lippin Group on behalf of LiveLike
Matt Biscuiti (NY)
212-986-7080
matt@lippingroup.com