LiveLike to Bring Powerful Engagement Tools to the AWS Marketplace and Amazon's IVS
NEW YORK, NY – APRIL 17, 2023 – LiveLike, a technology company dedicated to empowering digital experiences with enhanced interactive capabilities, announced today that its engagement and gamification tools are now available in AWS Marketplace, a digital catalog with thousands of software listings from independent software vendors that make it easy to find, test, buy, and deploy software that runs on Amazon Web Services (AWS). LiveLike's ready-to-use tools can enhance an online platform's user experience in just a few weeks. 
LiveLike's platform is built on the three pillars of interactivity, community, and loyalty. It enables and empowers businesses to retain, monetize, and engage their audience by bringing a suite of features to owned and operated platforms, decreasing the risk of losing users to third-party social networks. These features are proven to boost revenue through increased registration, interactions, impressions and sponsorship, as well as reducing churn and creating loyalty. 
"We are committed to creating communal experiences for our partners, and by working with AWS, we have the opportunity to reach even more businesses that are looking to grow and engage with their audiences, retain and monetize their user bases using our platform and with that, access to zero-party data," said Miheer Walavalkar, CEO and co-founder of LiveLike. "For years, we have built a strong track record by working with companies across sports, entertainment and other verticals, to enable them to foster active, engaged communities via social features like group chats, activity feeds, rewards programs and leaderboards that encourage interactivity and loyalty. We look forward to working with AWS to create even more opportunities that will enable our partners to achieve their business goals."
By being built upon and powered by AWS, LiveLike offers its clients a dynamic, secure, and scalable platform that operates globally. With access to a range of powerful AWS services, including Amazon Simple Storage Service (Amazon S3), Amazon CloudFront, Amazon Aurora, and Amazon Simple Queue Service (Amazon SQS), LiveLike is able to deliver immersive and high-performing media experiences that are reliable and lightning-fast. LiveLike clients can trust that their data and applications are secure and benefit from the robust security measures and advanced features provided by AWS.
About LiveLike
LiveLike is a technology company dedicated to empowering digital experiences that enable deeper community engagement, increased retention rates, and new monetization opportunities. Its audience engagement platform and gamification engine gives top sports organizations and media companies the power to elevate fan experiences, extend engagement time and harness the value of first and zero-party data. By customizing interactive and social features, LiveLike has connected fans to some of the most exciting live events around the world—from the Super Bowl, FIFA World Cup and NCAA March Madness to concerts, festivals and even the U.S. presidential debates. As they continue to expand into new industries like fitness, edtech, fintech, e-commerce and publishing, LiveLike is leading the charge in creating immersive, dynamic digital experiences. Visit www.livelike.com for more information on their innovative technology, partnerships and more.
Get in touch today to learn more about how LiveLike and AWS can help you engage users on your platform.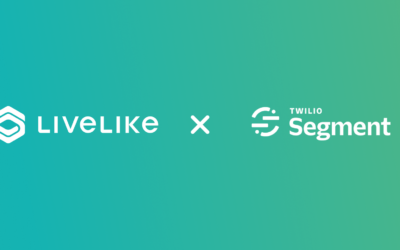 In today's fast-paced digital landscape, businesses need to stay ahead of the game to succeed. And that means leveraging the power of customer data. Enter the superhero of modern marketing, customer data platforms (CDPs).  CDPs help businesses collect and unify...