It's time for our fall product update! We're excited to share our recent progress and dive into some of our most game-changing updates from the past two months.
Main Product & SDK Updates:
Comments-as-a-service updates 

Segment source integration 

Roles in the CMS

Others: VOD timestamps for informative widgets, magic link upgrade
Main Updates: 
Comments-as-a-Service Advancements
This is a key milestone for our comments-as-service feature! Our CMS now provides an easy-to-use front end to manage your comment boards within your digital platforms. As a CMS producer, you can create, edit, and delete comment boards. You can also control the nesting depth of comments, post, delete, report, moderate any word, and ban users from posting comments.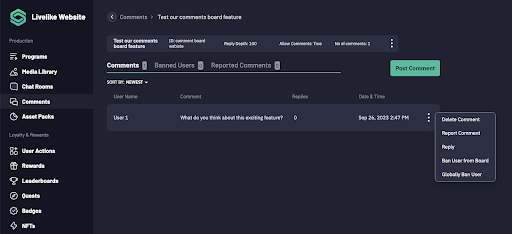 In addition to this update, our Android SDK now offers a highly customizable stock UI for comments, offering the following functionalities: 
Add, list, delete comment/reply

React with emojis to a comment/reply

Report comments and block users

Rearrange objects, customize colors and font families, etc.
*Web stock UI is already available, and iOS stock UI for comments is coming soon.
Segment Source Integration
We're excited to announce the significant advancements we made this summer to our customer data platform (CDP) integration capabilities. 
Initially, we sent event data when users earned a reward, earned a badge, and completed a quest. Now, we can send even more detailed data about these events, including reward and quest names, user IDs, reward status, points balances, and more. More recently, in October, we added a new event to be sent to Segment: Successful Prizeout redemption. In other words, sending data to Segment when users redeem their Prizeout points for real reward gift cards.
The combination of our 3 solutions offers a real end-to-end workflow when it comes to targeting, engaging and rewarding users in a very personalized way.

Roles in the CMS
Our work toward user-generated content is in the process of being set up! As firm believers in the power of community experiences, we're excited to offer you the chance to unlock certain features for your most devoted, trusted users, whether it's allowing them to moderate a chat room or create a poll.
To do so, you can now access the list of default LiveLike roles that already exist on our backend and which permissions are associated with these roles.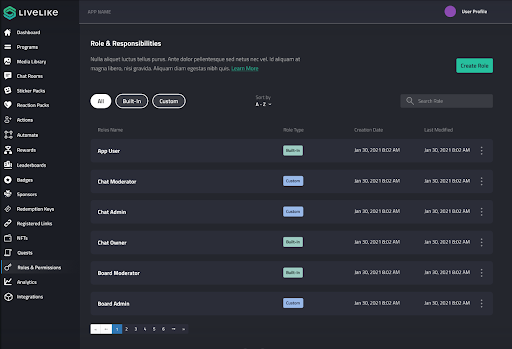 Further down the road, you will also be able to create new roles with custom permissions and tie them to our loyalty and rewards features. This means that the further users progress in your loyalty program, the more privileges they will acquire and the more important they will become in leading your community. This will be materialized in handling LiveLike features such as creating widgets or managing comment boards. 
Other Updates
Magic Link Update: Following the initial release of Magic Link (CMS Login improvement), we have added a feature that lets you decide the expiration and duration of the Magic Link session. 
VOD Timestamps for Informative Widgets: CMS producers now have increased flexibility for informative widgets like alerts, social embeds, and rich posts. Previously limited to interactive widgets, this addition allows you to include timestamps in your informative widgets, offering viewers precise information about key moments in your content.
We hope you enjoy these new updates, and please do not hesitate to reach out if you have any questions. If you are not yet using LiveLike but are interested in integrating our solution, you can also reach out and book a demo with our sales team.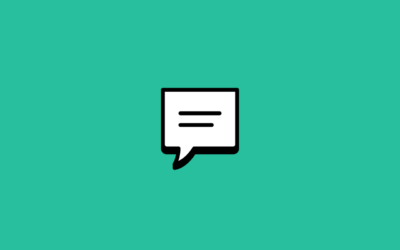 In 2023, making connections can be a challenge. That's why fostering meaningful interactions and building a vibrant community around your platform content is crucial. Your users want to feel like they're a part of something bigger, and that your platform is a space...